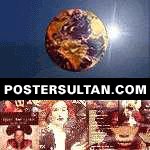 POSTERS STARTING AT ONLY $5.00!!
(Plus S&H)

YOUR INTERNET POSTER AND MUSIC DEALER

Almost 14,000 Posters To Choose From!
PosterSultan.com is currently redesigning the site and adding content to the database,
please check back after SuperBowl Weekend!
---
Postersultan.com is a website set up to provide posters, and other music related things to collectors. At present we have updated the entire website. The Pages have been broken down into manageable sizes finally. We have Almost completely added the flats that are the 12 by 12 items (We have just purchased 10000 old flats that we will have on the site in the coming months), and the Denver Handbills which are the 11 by 17 items. We have also purchased 3000-5000 new posters. If you Wish to order by Snailmail you can email us at sultan@postersultan.com to let us know to put one aside for you.

Our site has rare and hard to find promotional posters. All the posters range in sizes. The dimensions are at the bottom of the poster title. Most posters that you see will only be available on this site. At present our quantities are limited on certain posters while we have a large quantity on other posters. Although the majority of posters are in mint condition, some posters may not be. Please remember that the posters look much better in person than they do on your browser. Our goal is to have something unique and special for the music collector.
When ordering a poster, all you need to do is click on the add to shopping cart button and that will take you to the order page. We hope that you find something you like.
Questions or Comments? Send E-mail to sultan@postersultan.com